Chicken Medallions with Apples
Derf2440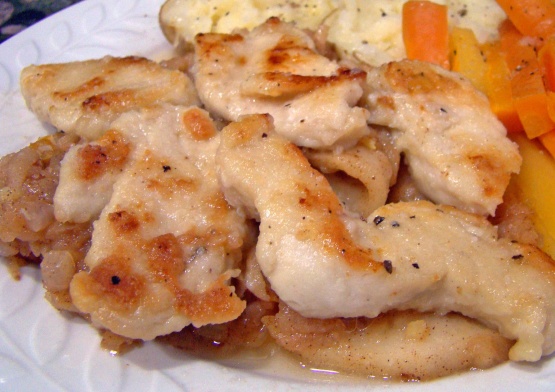 This is a Beth Elon recipe, and she's never let me down before. This is a great recipe for springtime, and is also kosher for Passover.

Lovely tasty Sunday Chicken dinner! My chicken breast just would not cut into medallions, more like strips, but it didn't affect the flavours at all. I also had to use red apples, no green available. We loved the apple mix, slightly tart and flavourful. Thanks for posting, I will be making it again.
Slice the chicken breasts into medallions.
Put some flour onto a small plate, and brush the medallions lightly with the flour.
Quarter the apples, and, with a large-hole grater, grate 6 of the quarters thickly.
Slice the remaining two quarters thinly.
Put half the olive oil in a large saute pan and saute the chopped onion and sliced celery until the onion is soft, about 3 minutes.
Add the grated apple, mix well, and then add the sliced apples.
Cook for about 2 minutes, mixing gently, then splash in the wine vinegar and 1/4 cup white wine, along with a pinch of sugar.
Add the cloves and cinnamon and cook for another 5 minutes, mixing as the sauce thickens.
Remove from the flame and put the contents into a bowl.
In the same pan, wiped clean, heat the remaining oil and quickly saute the chicken medallions, a few at a time, not more than a minute on each side.
Add salt and freshly ground pepper as they cook.
When finished, put all the medallions back in the pan and add the remaining wine.
When it bubbles, pour over the reserved sauce, heat, and serve immediately.