Chicken Mashed Potato Fritters
Zurie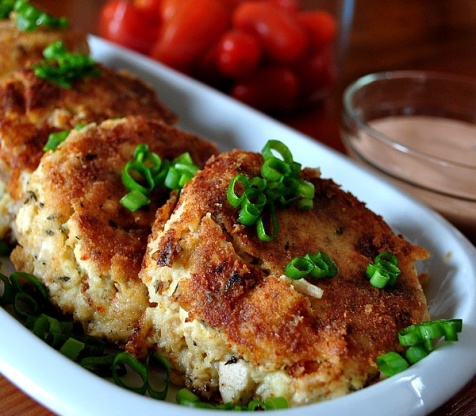 A new and refreshing way to enjoy mashed potatoes! From Southern Living magazine.

Top Review by Zurie
My dear Sharon, I have made this useful recipe for the Cookathon in memory of your darling husband, on Oct 15, 2010. I often have leftover chicken (usually the breast part, as we prefer legs and wings). This is a very practical, quick, easy and usable recipe. I did not make appetizers, but rather large patties, to use for dinner. I formed the patties and put it in the fridge for 1 hour. It was not too difficult to handle then. Rolled it in crumbs, and fried in shallow oil (but a lot of oil). Maybe the original way of making small bites, and then deep-frying, would work far better: I apologise. I really needed to use up the roast chicken breasts for another dinner. I used it skin and all, as all the flavour was on the skin where I'd seasoned it. I also used seasoned salt instead of plain salt: mine contained dried peppadew, dried rosemary, hot pepper and dried garlic. But still, the patties were too bland, even with the mayo mixture I made. I love the idea of mashed potatoes mixed with chopped cooked chicken, and next time will simply add flour (or something) to firm up the patties some more. Thanks, this is an adaptable recipe, and vey, very handy for chicken leftovers!! (Blessings and peace to you in this trying time). Photos to follow: having problems.
Bring potatoes, 1 teaspoons salt, and water to cover to a boil in a small saucepan. Cook 20 minutes or until tender; drain and mash potatoes.
Stir together mashed potatoes, remaining 1 teaspoons salt, chicken, and next 7 ingrdients(through lemon rind). Chill mixture 1 hour. Shape into 2" balls.
Place dry breadcrumbs in a shallow dish. Roll balls in breadcrumbs, coating evenly.
Pour oil to a depth of 4" into a Dutch oven or fryer; heat to 370*F. Fry fritters, in batches, 2 minutes or until golden brown. Drain on wire racks on paper towels, and serve immediately. Serve with Lime Cayenne Mayonnaise(recipe posted separately).