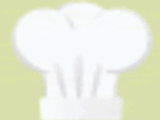 A tasty chicken and vegie dish, from American Diabetes Association. Feel free to use any combination of fresh vegies equaling 4 cups. Serve with cooked brown rice.
Directions
Place flour, salt, pepper and paprika in a zippered plastic bag.
Add chicken thighs and shake to coat.
Add olive oil to a large nonstick skillet and place over medium heat. Add chicken thighs and brown on all sides.
Add broth, bring to a boil, reduce heat to simmer; cover, and cook 30 minutes.
Add vegetables, cover and cook until vegetables are tender, about 10 minutes.