Chicken Marinara Stir-Fry
PaulaG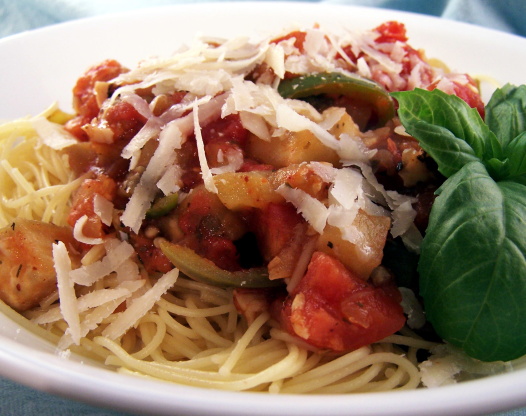 An Italian twist on an Asian classic. Low fat.

I think that this recipe was great except for the eggplant. Mine was very spongy. I have never cooked eggplant, but I believe it needed to cook longer. Next time I will substitute with zucchini. Thanks for the recipe which is a great starting point for me.
Drain tomatoes, reserve juice, and set aside.
In a bowl, combine cornstarch, tomato sauce, chicken broth, wine, seasonings and reserved juice. Stir until smooth. Set aside.
In a large skillet or wok, stir-fry chicken and garlic in hot oil until no longer pink. Remove and keep warm.
In same skillet, stir-fry onion and pepper for 4 minutes. Add eggplant; stir-fry for 4-5 minutes or until tender.
Stir sauce; add to pan. Bring to a boil; cook and stir 2 minutes, until thick.
Add chicken and tomatoes; heat through.
Serve over pasta. Top with parmesan cheese.