gelaina1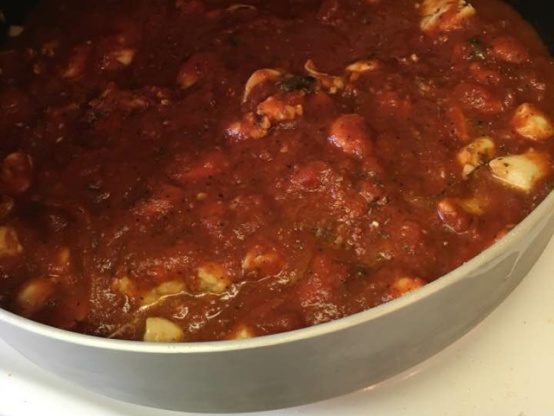 I am posting this because an Italian patient of mine didn't have any family recipes passed on to him (due to adoption). Now I can just print it out if need ever arises again! lol This is the recipe my Sicilian mother and grandmother taught me. It is simple, delicious and one of my favorite comfort foods. It is much quicker than marinara with beef or pork (i.e. sausage or meatballs)--ENJOY! And please don't tell my grandmother I posted this family recipe online.

Very good. I thought is was a bit bland as is, so added 2 cloves of minced garlic, a couple of big pinches of red pepper flakes, omitted the water and added a bit more red wine. Thank you for posting Doxie! Made for 2009 Spring PAC
Sauté garlic in 1 Tbsp olive oil until lightly brown and set aside. Cut chicken into bite-size pieces.
Cook chicken, mushrooms and onion in same skillet with remaining olive oil until chicken is white throughout, seasoning with salt and pepper as preferred.
Add tomato paste, cooked garlic and mix well.
Add crushed tomatoes, basil, and water and mix well. Bring to boil, then lower to a simmer and covering sauce with a lid for an hour. Stir occasionally and season with salt and pepper as desired.
Midway, add wine and stir well and resume covered simmering.
During last fifteen minutes or so, cook pasta according to directions on package.
In large bowl, pour sauce over cooked pasta and mix well.
Sprinkle cheese on top and serve!