Chicken-Mandarin Orange Spread Sandwiches
Ms B.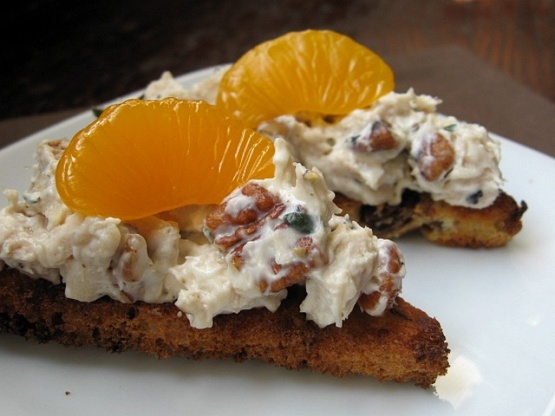 Top Review by Ms B.
I found the chicken salad portion of this recipe to be rather bland on its own. The combination of the raisin bread and mandarin orange did perk up the salad and give the sandwich some freshness of flavor. I had reduced the amount of cream cheese, and believe it would have been incredibly heavy had I used the full amount. I used fresh thyme and quickly toasted my pecans while chopping my leftover roasted chicken. Presentation was very pretty.
Trim crusts from bread slices.
Cut each bread slice into 4 triangles; place bread triangles on a baking sheet.
Bake in a 400°F oven for 5 minutes or until toasted.
In a bowl, combine cream cheese and the next 6 ingredients until well blended.
Cover and chill until ready to serve.
Spoon 1 tablespoon cream cheese mixture on each raisin bread triangle; top each with a mandarin orange segment.