Chicken-Macaroni Casserole
Dine Dish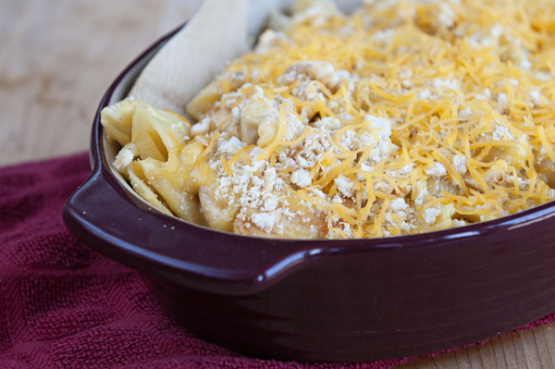 Southern Living: a simple homey casserole my kids like.

This is the best. casserole. EVER! I use egg noodles instead of macaroni, and omit the onion. I also put 2 cups of cheese in the sauce, because The Boy complained it wasn't 'cheesy enough'. Definitely use the Ritz crackers on the topping - it's the BEST! The Boy is a very picky eater, so this is one of the only 'normal' foods that he will eat with very little complaint. In my book, that's a huge win!
1⁄2 cup chopped onion

2

(10 3/4 ounce) cans cream of chicken soup

2

cups shredded cheddar cheese, divided

1

cup milk
3 1⁄2 cups chopped cooked chicken
2 1⁄2 cups cooked macaroni
1⁄4 cup Ritz cracker crumbs
In a large skillet over med-high heat, saute onions in butter until onions are tender.
Add in soup and 1 ½ cups cheese; gradually stir in milk.
Cook over medium heat until cheese melts; stir in chicken and macaroni; taste and adjust seasoning with salt and pepper.
Transfer mixture to a greased 2 ½ quart casserole; sprinkle with cracker crumbs.
Bake in a preheated 350° oven for 30 minutes or until heated through.
Top with remaining ½ cup cheese and bake 5 minutes.