Chicken Macaroni Casserole
flower7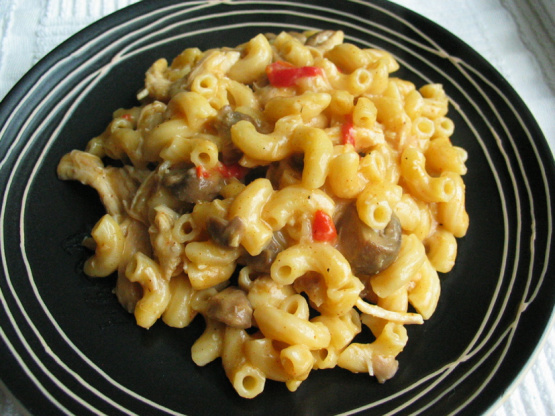 I found this recipe while browsing through my Betty Crocker cookbook and thought it sounded tasty. I love that you don't have to pre-cook the pasta. The original recipe called for curry powder but I also like it with chili powder for something totally different (if using chili powder, you will want to double the amount). Also a good use for that leftover holiday turkey!

Top Review by meruhd
No, I did not make this recipe according to the instructions. I made changes, but if I hadn't made those changes I probably would have rated this even lower. As it is, I'm rating it because I believe some changes should be made.

First, I added a full teaspoon of curry powder because I enjoy strong flavors. Next, because I used mild cheddar, I used double what was recommended as per another review which stated that they used mild and the flavor of the cheese didn't come through. I did not have pimentos, but used the mushrooms. I added 2 oz. of water extra (because of the lack of pimentos) and added about 1/4 cup extra of milk.

I do NOT recommend adding the 1/2 teaspoon of salt. It seems like only a little bit, but when you use pre-cooked chicken or turkey, there is already salt added to it (presumably you season your food when you cook it). Also, the cream of chicken soup has a great deal of salt in it already. I used no salt added mushrooms as well, and I'm glad I did.

With the above changes made, it was salty enough and seasoned well. I do not recommend adding that extra bit of salt unless you are using canned ingredients that are low sodium.

I DID enjoy this dish as I made it though. I served it with a salad as a palate cleanser and it worked out well. I will probably make this dish again, but will use fresh mushrooms that I will saute first. There wasn't much flavor with the canned mushrooms. This was a very easy dish because the pasta did not have to be pre-cooked. I used large elbow mushrooms and they were perfectly tender enough to eat.
Preheat oven to 350°F.
Mix all ingredients together in an ungreased 11"x7" casserole dish.
Cover and bake until macaroni is tender, about 55 minutes.