Chicken Livers With Mushrooms
Bergy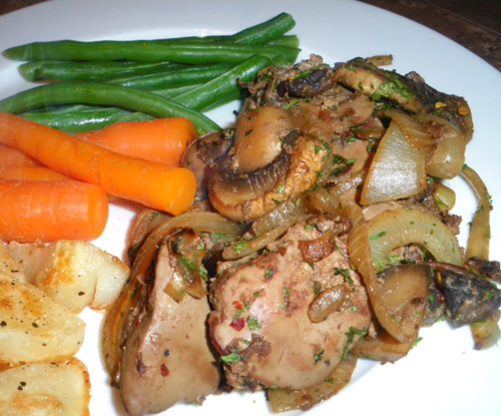 This should probably be called Chicken livers and gravy as it forms a wonderful tasting gravy. I've had this recipe for years but don't remember where I got it. I'm posting the recipe as written and added my additions at the end. Hope you like it, can be easily doubled or tripled.(though I don't double the margarine for cooking the livers)
Boil water, add bouillon to dissolve, set aside.
Melt margarine in 8 inch skillet.
Brown livers over medium heat, stirring occasionally for 3-4 minutes.
Stir in mushrooms (with liquid)
Add bouillon/water, flour, salt(if using), pepper and parsley.
Heat to boiling.
Reduce heat and simmer uncovered
Stir occasionally until livers are done, about 5 minutes.
I usually use fresh sliced mushrooms as I don't really care for canned. Sorry, I'm not sure of the exact amount I use, I just add until it looks like enough -- oh, and I add about another 1/8 - 1/4 cup of water too if I use fresh mushrooms.
I also add about 1/4 cup of diced onions and fry with liver for added flavour.
I also do not add additional salt as I feel there is enough in the bouillon but the choice is yours.