Chicken Livers W/Caramelized Onion and Madeira
Bergy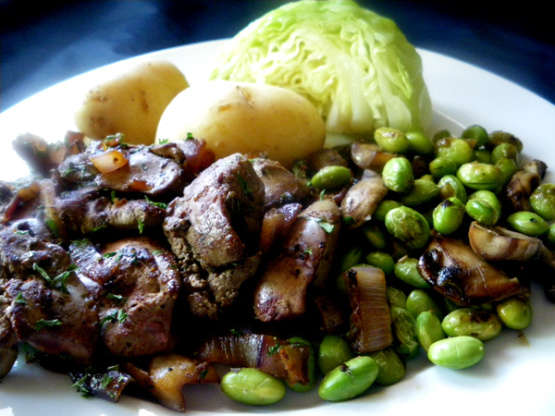 Rich tasting caramelized onions combined with Madeira makes a spectacular sauce for chicken livers. Serve with rice or over toast so you don't miss a single drop. Update: 06/22/09 - if the sauce is running low add some chicken broth or beef broth to extend it! ;)

i soaked my livers in milk for one hour prior to cooking, used vidalia onions and marsala wine as i had no madeira, port, or sherry. i served over buttered toast. the plated dish was fantastic with very little "livery" taste, and the meal was light yet rich tasting. also, as the amount of sauce generated after deglazing did not seem sufficient, i extended it with chicken stock.
In a frying pan, heat 2 Tablespoons of the oil over moderate heat.
Add the onions, 1/2 tsp salt, 1/8 tsp pepper and sugar.
Cook, stirring frequently, until the onions are well browned, about 15 minutes.
Remove the onions from the pan and put on a serving platter or individual plates and keep warm.
In the same frying pan, heat the remaining 1 Tablespoon of oil over moderately high heat.
Season the chicken livers with the remaining salt & pepper.
Put the livers in the pan, in two batches if necessary, and cook for 2 minutes. Turn and cook until browned, about 2 minutes longer.
The livers should still be pink inside.
Remove the chicken livers from the pan and put them on top of the onions.
Return the pan to the heat and add Madeira.
Boil rapidly, scraping the bottom of the pan to dislodge any brown bits, for 1 minute.
Pour the sauce over the livers and the onions.
Top with egg (if using) and parsley.
Variations: Use 1/2 cup of Sherry or 1/2 cup of Port instead of Madeira.