duonyte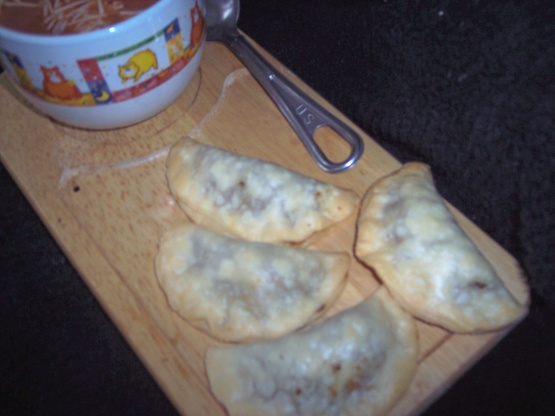 Shortly after I bought some pocket cutters to make turnovers (cuts on one side and then you use the other side to seal the turnovers), I created this recipe as a tasty way to eat chicken livers...which I love. Feel free to subsitute your favorite pie crust for the store bought mix.

I added a little cooked diced bacon and chopped cooked mushrooms and some thyme, looked a little dry so I added a couple of TB's of chicken broth. Didn't have pie crust but had frozen puff pastry cups which worked very well. Will double next time. Thanks Karen for sharing a recipe that lends it's self to tweaking. I love to play with recipes and have at times, ended up with having to order out, but not this time. This is a keeper.
In a bag, combine flour, salt and pepper.
Shake chicken livers, a few at a time, in bag to coat with seasoned flour.
Melt butter in medium skillet, then saute livers, turning until browned and insides are no longer pink (about 10 minutes).
Remove livers and chop.
In the same skillet, saute onion until tender, about 3 minutes. Remove from heat.
Add cheese, rosemary and liver, stirring to combine.
Preheat oven to 400 degrees.
Make piecrust as package label directs (or your own favorite piecrust).
On a lightly floured surface, roll pastry 1/8 inch thick.
Use medium pocket cutter to cut dough (or a round doughnut sized cookie cutter).
Place 1-2 tablespoons of liver mixture in center of dough, fold over dough and seal edges.
NOTE: If you want a golden crust, brush top with beaten egg before baking.
Bake on an ungreased cookie sheet for 20 minutes or until lightly browned.
NOTE: These turnovers freeze really well. Place in a ziplock storage back in freezer and remove the turnovers as you want to make them. Place frozen turnovers on a cookie sheet or low sided pan and bake in a 350-400 degree oven for 20-30 minutes until hot. I usually throw them into the oven with whatever else I am cooking, so the temperature & time varies.