Zurie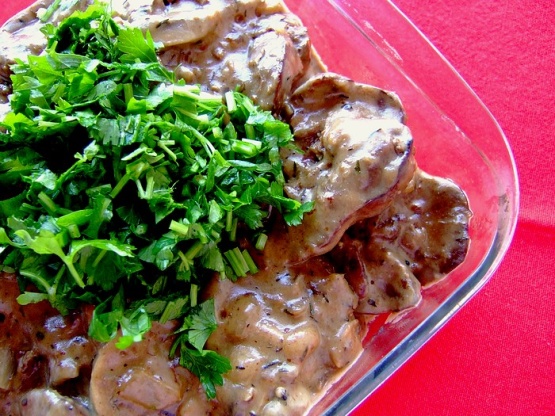 If you like liver I think you'll like this recipe. I like to serve them over wide buttered noodles

Not being a fixated-sexist who only values a chicken's breasts, served this with a salad of spinach leaves, with sorbet to follow. A splendid, tasty meal! Used FULL FAT sour cream ... did not put in the onions or serve with noodles as we had neither ... and it was wonderful! Thank you Bergy
Dry the livers on paper towels.
sprinkle with 1 tbsp flour.
Melt margarine in a fry pan, saute the onion until softened.
Add livers saute for about 3 minutes or until just browned.
Add mushrooms, worcestershire sauce, chile sauce, thyme and pepper.
Saute 5 minutes.
Combine sour cream and the remaining flour, mix well.
Stir into the liver mixture and bring to just boiling.
Remove from heat sprinkle with parsley and Serve.