troyh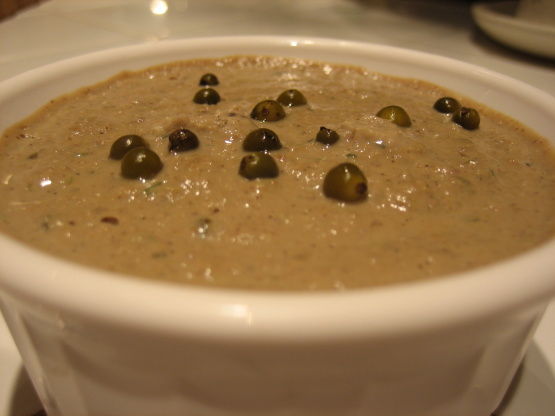 An excellent appetizer served with toast point or crackers and a glass of Boeujolais Wine.

I chose to saute the livers in part of the butter instead of boiling them. (I have another recipe for this that I make and I like having the onions pick up the browned bits.) This recipe has wonderful flavor. The cognac and bay, and especially the green peppercorns -- I love these so much I couldn't resist throwing a bunch more on top for garnish (those are my photos under my hubby's name). The only problem was that this did not setup well. It was fine to serve as a spread from the ramekins though. The other recipe I have for this calls for more butter and less whipping cream...I suspect that has something to do with it. I will certainly make again.
In a large saucepan or cooking pot, add water and bring to boil.
Add black peppercorns, celery, and bay leaves.
Reduce heat and simmer for 10 minutes.
Add chicken livers and cook gently for another 10 minutes.
Drain, remove livers and set aside.
In a small saucepan, heat butter, add onion and garlic and cook until onion is translucent, about 4 minutes.
Transfer onion/garlic to a food processor.
Add chicken, cognac, salt, thyme, allspice and four teaspoons of green peppercorns.
Process until smooth.
Pour in whipping cream, process until incorporated and transfer to a mixing bowl.
Stir in remaining 1 teaspoon of green peppercorns.
Mold into small ramekins and refrigerate.
Unmold before serving.
Serve with toast points or crackers of your choice.