Ashley Cuoco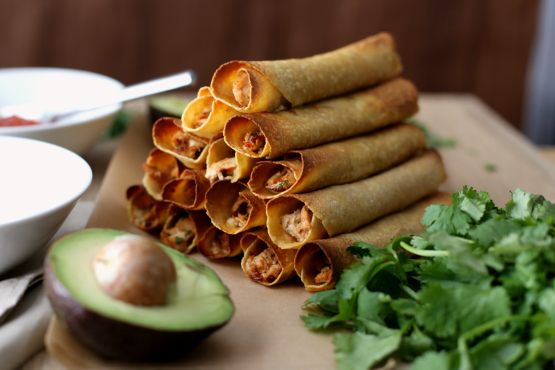 These are absolutely to die for!!! They are not your ordinary taquitos. They're so good, I don't even use guacamole with them, although some still prefer them that way. Remember to get all your veggies in long thin strips. Time includes marinating.

The flavors of the chicken marinade were delicious. I tried putting some oil on them and "frying" them in the oven. Not a good idea. It didn't work out very well. But, I'm pretty sure it was my fault for trying to make this more healthy. Next time, I'll just go ahead and clog my arteries. Also, I learned on the food network that a single kernel of popcorn pops at exactly 350 degrees. So, if you put one in while your oil is heating, you will know when it's hot enough when the kernel pops.
Combine first 5 ingredients for marinade.
Marinate chicken in mixture for at least 2 hours.
Drain chicken well and grill (I use indoor grill) until done. Allow to cool and shred into 1/8 inch by 3 inch pieces.
Place chicken in bowl and sprinkle with salt and minced garlic. Mix well.
Add red pepper, pasilla, onion, cheese and 1/2 ounce lime juice. Mix thoroughly.
To assemble, warm tortilla on griddle until soft and pliable. If necessary, add a little oil to the pan to help soften the tortillas.
Spoon 2 ounces of chicken filling over tortilla and roll tightly, securing with toothpick.
Deep-fry in oil at 350ºF for 2 minutes or until golden brown and crispy.
Drain well.
Serve with guacamole, sour cream, and or salsa.