lazyme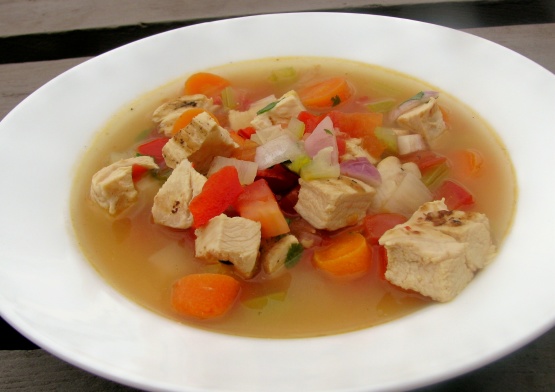 One of two Runner-Up recipes for 1993 in the San Francisco Chronicle, from Jacqueline Higuera McMahan.

This soup is very flavorful and delicious. There is a nice tang from the lime. The pepper in my salsa had quite a kick, so it added a nice bite to it. Thanks for sharing! Culinary Quest '14
Spray olive oil mist over the chicken breasts, then squeeze the juice of 1 lime over them. Grill (or broil) the chicken over medium heat for 5 minutes per side. Cool for a few minutes, then dice or shred. Set aside.
Bring the chicken broth to a simmer. Add the bell pepper, garlic, celery and carrot. Cook over low heat for 15 minutes. Stir in the zucchini and cook for 5 minutes. Add the reserved chicken, the juice of the remaining limes and the tomato. Season with salt. Simmer for a couple of minutes. Remove from heat. Stir in the cilantro and salsa, or pass them at the table.
For Salsa: Combine the onion, tomatoes, chile, garlic, cilantro and lime juice in a bowl. Season to taste with salt. Yields about 2 cups.