Chicken Lettuce Wraps Like Pf Changs - Copycat
nisea916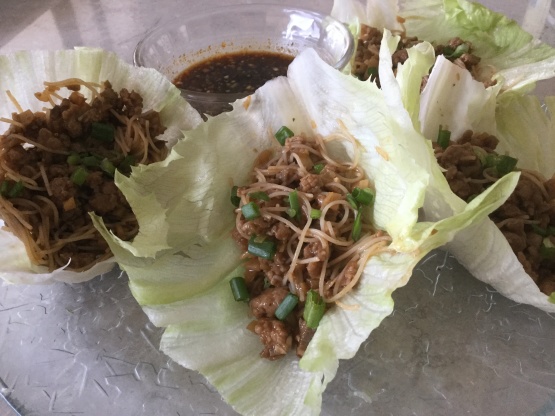 I LOVE PF Changs Lettuce Wraps, but we live a long distance from the nearest of their restaurants. When I start craving their lettuce wraps, I make this copycat recipe, and my husband says they are even better than Changs. You be the judge. They are a little work, but well worth the effort. Note: I took the cellophane, heated about an inch of oil in a skillet, got it hot, tested it with a few crumbs of noodles to see if it would sizzle, and then dropped the noodles in. They crisp up very fast. I drained on papertowels and then mixed in with the other recipe,

Hi all! I'm a LONG time employee at PF Changs and BamaKathy's recipe is almost spot on. Although there arent any bamboo shoots in the original recipe, it looks like it would be a nice added touch. After we cook the ground chicken, we chill it along with the mushrooms and the water chestnuts. We take that mixture, heat it through, add the sauce, and throw in the scallions for the last couple minutes of cooking. As for our "special sauce" we serve with it tableside, that consists of soy sauce, vinegar, chili oil, sugar, green onion, sesame oil, water, chili paste, and hot mustard. Hope this helps.
(If you used dried mushrooms, cover mushrooms with boiling water, let stand 30 minutes then drain.) Cut and discard woody stems from mushrooms. Mince mushrooms. Set aside.
Mix all ingredients for cooking sauce in bowl, and set aside.
In medium bowl, combine cornstarch, sherry water, soy sauce, salt, pepper, and chicken. Stir to coat chicken thoroughly. Stir in 1 teaspoons oil and let sit 15 minutes to marinate.
Heat wok or large skillet over medium high heat. Add 3 TBSP oil, then add chicken and stir fry for about 3-4 minutes. Remove from pan and set aside.
Add 2 TBSP oil to pan. Add ginger, garlic, chilies(if desired. I leave these out), and onion; stir fry about a minute or so.
Add mushrooms, bamboo shoots and water chestnuts; stir fry an additional 2 minutes.
Return chicken to pan. Add mixed cooking sauce to pan. Cook until thickened and hot. Break cooked cellophane noodles into small pieces, and cover bottom of serving dish with them. Then pour chicken mixture on top of noodles. Spoon into lettuce leaf and roll.