Chicken Lettuce 'Tacos' With a Sweet Chili and Peanut Sauce
Rita1652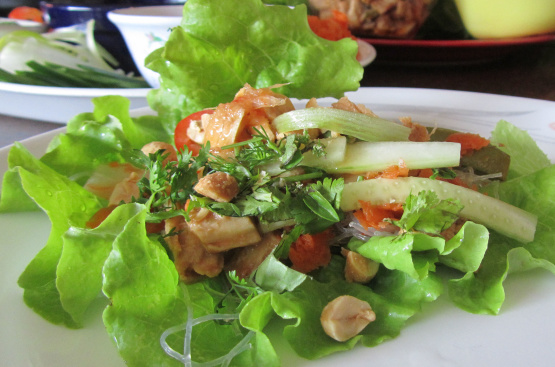 I wanted to make something that would tantalize our taste-buds but still be healthy, fresh-tasting and colorful. This recipe delivers in every department. The kids loved assembling their own oriental-style chicken-lettuce 'tacos' at the table, loading them with the toppings of their choosing, drizzling with the yummy sauce, sprinkling on nuts and then eating everything up! I guess I should have made twice as much.

Top Review by Debbwl
Yum and double yum! I cut the recipe in half and did cut the chicken into thin strips and marinated 5 hours which was tasty and perfect, think 24 hours would have been too long for these thin strips and just as a matter of personal choice will cut the strips into thirds next time. Had some homemade sweet chili sauce left from yesterday that did not have ginger so add a teaspoon of fresh ginger and thought it went fantastic with these oh so yummy and oh so healthy Thai Tacos. This meal does make for one very pretty table and makes healthy eating fun. Good luck in the contest and thanks for the great post.
For Marinade

2

tablespoons soya sauce

1

tablespoon olive oil

1

tablespoon fresh ginger, grated

750

g chicken breast fillets, cut into lengthwise strips
salt and pepper, to taste

Sweet Chili and Peanut Sauce

3

tablespoons rice wine vinegar

2

tablespoons fish sauce

2

tablespoons hot water

2

tablespoons soy sauce

2

tablespoons honey

1

tablespoon peanut butter

1

tablespoon Thai sweet chili sauce
1⁄2 lime, juice of

1

teaspoon fresh ginger, grated
1⁄2 teaspoon garlic, minced

To serve

bibb lettuce cup
cucumber, thinly sliced in julienne strips
carrot, shredded
spring onion, thinly sliced
cilantro, chopped
rice or cellophane noodle, prepared according to package direction
dry roasted peanuts, chopped
In a mini-processor, whizz together garlic, lime juice, soy sauce, olive oil and ginger until all combined and pureed. Put chicken strips into a ziploc bag, pour in marinade. Distribute to coat chicken well with marinade. Place in refrigerator and forget for 3-5 hours. Remove from refrigerator 30 minutes before you are ready to cook it to bring closer to room temperature.
Drain everything in the ziploc bag directly into a hot teflon saute pan. Cook chicken, stirring occasionally, until cooked through, about 8 minutes. The marinade will have reduced into a glaze, just coating the chicken. Season, carefully (there's already soy sauce in the marinade). Empty the chicken out onto a serving platter.
To make the Sweet Chili Sauce, combine all the ingredients in a blender/food processor and puree until smooth. Pour into a small bowl.
At table: Have chicken on one platter and the lettuce cups with all the other vegetables and rice noodles on another. Don't forget the Sweet Chili Sauce and the bowl of chopped peanuts. Allow free rein for creativity and great flavor packed into healthful oriental-style 'tacos'!