Bergy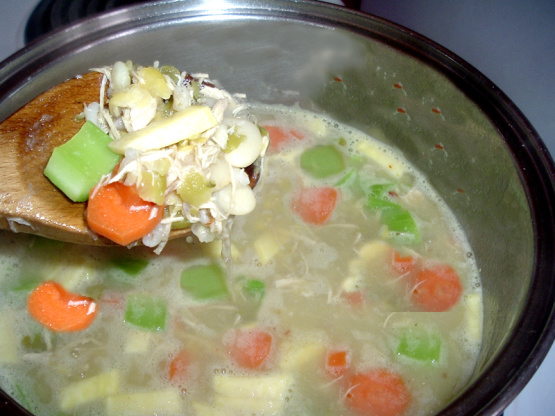 First Prize Heart's Delight Recipe Contest- Junior Division. From "Cooking a la Heart"- Delicious Heart Healthy Recipes from the Mankato Heart Health Program, 1988.

Top Review by Bergy
Easy tasty comfort food. We had a 6" dump of snow so I needed this. I had 2 quarts of chicken stock in the freezer with the chicken already in it so I used that as my base.Otherwise followed the recipe except for the tumeric (I was out of it) Still tasted excellent Mm Thanks Bec for a heart warming lunch
The night before serving, bring skinned, defatted chicken, lentils and split peas to a boil in water.
Reduce heat to low, cover and simmer 2 hours.
Remove chicken; bone, dice, and refrigerate.
The next day, remove and discard any congealed fat.
Add celery, carrots, onion, parsley, thyme, pepper, turmeric, sage and poultry seasoning.
Simmer 1 1/4 hours.
Just before serving, add diced chicken and heat thoroughly.