Chicken Lemon Soup W/Rice and Vegetables
Nif_H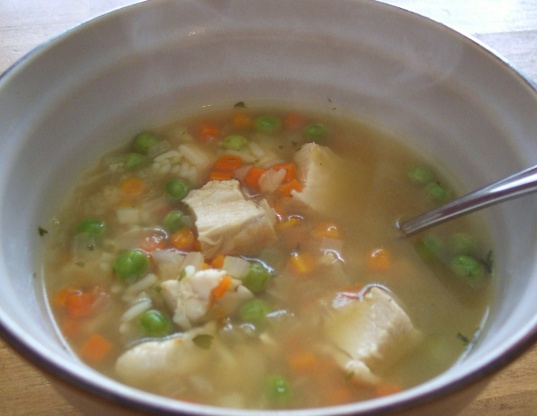 Very refreshing soup that can be served even in the summer. You can add more vegetables according to taste. I like to roast the chicken breast on a pan before adding to the soup, as I find it adds a bit more flavour.

This was delicious. I had some ground chicken to use up, so made some little meatballs with it, and then browned those first. I even liked the celery in this, usually I don't. I put the meatballs in with the broth, since they were raw. I also used a bay leaf and a few whole peppercorns, both of which add a lot of flavor to these types of soups. No frozen peas at home, so I diced up some zucchini, which was great with the other ingredients. The only other thing I did differently was to add a squeeze of lemon after the soup was plated. I made about half the recipe, which was two generous servings.Perfect on a snowy day.
Heat oil and slowly cook onion, carrot and celery over medium heat for approx 8 min until soft.
Add zest of lemon and rice.
Stir.
Add chicken broth and boil on low for approx 20 min until vegetables are tender.
Add peas, chicken, lemon juice and parsley 5 minutes before serving.
Add salt and pepper to taste.