Chicken, Lemon and Rocket Risotto
flower7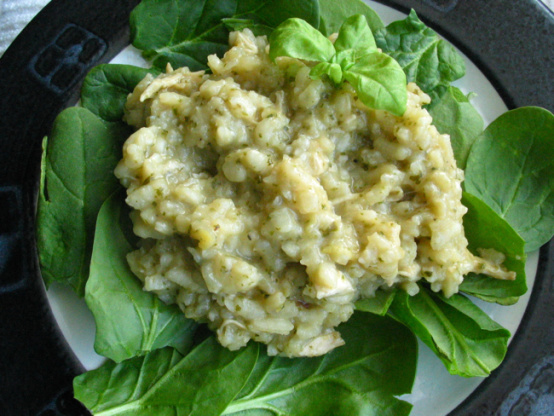 From the site healthyfoodguide.com.au Heaps of healthy easy recipes on there! I love risotto, but have struggled to find healthy ones I'd actually like to eat. This one is good.

Although my arm wants to fall off from the stirring LOL this was really nice in the end! I got about 1/4 cup of juice from the single lemon so it added a lot of lemon flavor which I enjoy. I had Recipe #434393 in the freezer and couldn't get arugula (rocket) so had to use spinach. Thanks for sharing!
Bring stock and water to a simmer in a saucepan. In another saucepan, add rice and 1/2 cup stock mixture over low heat. Stir until stock is absorbed.
Keep adding 1/4 cupfuls of stock mixture, stirring until rice is al dente or cooked to your liking. Add chicken, lemon juice and zest. Stir until heated through.
Add pesto, stir until well combined. Serve with rocket. If desired, sprinkle with parmesan.