Chicken Legs with Ricotta and Bacon Stuffing
Sally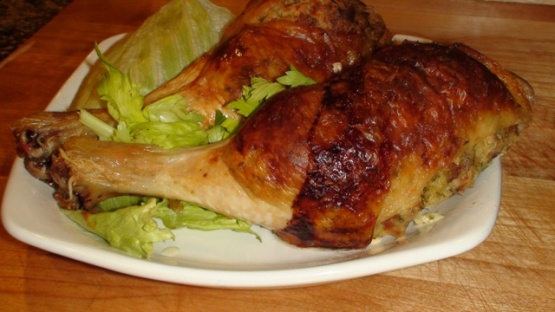 Chicken is every kitchen-staple and this recipe adds variety and flavour to cooking this popular meat. Deliciously served with assorted salads, mixed lettuce leaves or a mesculin mixture lightly coated with an extra virgin olive oil, balsamic vinegar and sun dried tomato dressing. To complement, you may wish to prepare a drizzled herbed/olive oil and ricotta foccacia. Basic recipe from "Classic Essential Roasts, Hawthorne Press" and accompaniments from my own kitchen.

Top Review by Sally
Fantabulous! So much so I even got a picture of it! I did change just a little something. I did not have Ricotta, didn't feel like trying to make it homemade so I substituted 1/2 large curd cottage cheese and 1/2 cream cheese. The stuffing had a wonderful light cheese taste to it, the legs were big and juicy. All the rest was right on including the cook time. What more could you ask for! Thanks for sharing.
TO MAKE THE STUFFING: Remove the rind from the bacon and chop finely.
Fry in a dry pan until crisp.
Remove cooked bacon and set aside.
In the same pan, heat the oil and cook the onion and garlic until soft.
Put the ricotta, egg, Parmesan, breadcrumbs, parsley, chives, tarragon, bacon, onion, garlic and nutmeg in a large bowl.
Mix together, lightly, to combine ingredients.
PREHEAT OVEN TO MODERATE- 350 degrees F (180C/Gas mark 4).
Using your fingers, ease the skin away from the thigh and leg of the chicken, being careful not to pierce the skin.
Gently push the stuffing mixture evenly under the skin.
Draw the skin back over the stuffing.
Place the chicken in a lightly oiled, shallow roasting pan.
Brush chicken with the melted butter.
Roast for 45 minutes, or until the chicken is cooked thoroughly.
Remove from oven and allow to sit for 5 minutes before serving.