Chicken Legs With Honey and Rosemary
ImPat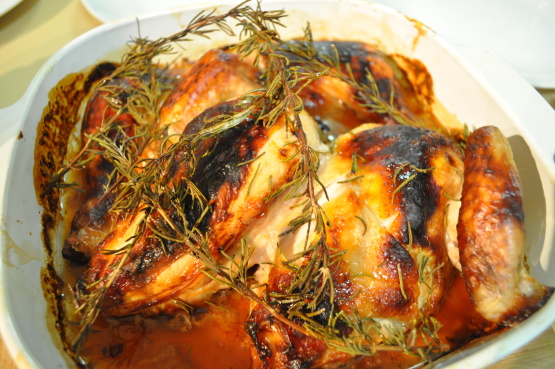 The chicken leg pieces are the whole leg- drumstick with the thigh attached, also known in Australia as chicken maryland pieces. Legs can be barbecued or cooked in the oven. A recipe from Canada's Ricardo in his cookbook "Ricardo Meals for every occassion" that I received from Katzen my cookbook swap partner.Thankyou Katzen.

Top Review by ImPat
Plucked rosemary fresh from the garden and steeped in 1/2 cup of honey and then quartered a chicken (so 2 got maryland and 2 got breasts - I got breast - so that is what is photographed on the plate) but the chicken was moist and sweet but still not too sweet for my taste and the hint of rosemary was very nice (would have personally like it a little stronger but got voted out on that). I did the oven version and allowed and hour since I quartered the chicken but that said the marylands I've seen in the supermarket are huge and I think would need the hour to cook. Thank you **Jubes** made for Aussie/Kiwi Swap #49 February 2011.
Preheat the barbecue (setting the burners to hig) or preheat oven to 400°F / 200°C with the rack in the middle position.
For the BBQ -Place each chicken leg on a double sheet of foil.
Top each chciken piece with some honey and a rosemary sprig. Season with salt and pepper.
Lift the edges of the sheets of foil and crimp them together to form a tightly sealed packet. Your chicken will have a double layer of foil.
Grill until the chicken is cooked and the meat falls from the bone- approx 15 minutes per side.
Oven Method -- Arrange the chicken (not wrapped in foil) on a baking sheet and cook for about 45 minutes.