Chicken Legs in White Wine Sauce
ImPat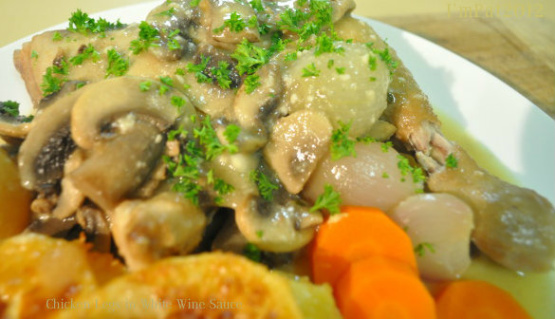 Simple, pretty fast and delicious.

This recipe is absolutely lovely!! I omitted the mushrooms as I don't like them. The chicken came tender and the sauce is really good. Also, leftovers taste great the next day as the chicken has had more time to marinate.
Sprinkle the chicken legs with salt and pepper. Heat the oil in a skillet large enough to hold the legs in one layer. Add the pieces skin side down.
Add the mushrooms, onions and garlic. Cook over medium heat until lightly browned on one side, about 3 minutes.
Turn the pieces and continue cooking, about 3 more minutes.
Pour off the fat, add the flour and blend well for about 3 minutes more.
Add the wine, broth, bay leaf, thyme and parsley.
bring to boil, cover and simmer for 15 minutes.
Transfer the chicken, mushrooms and onions to a serving platter.
Discard the bay leaf and the spring of thyme.
Check the seasoning and reduce the sauce, if to thin.
Stir in the butter and pour the sauce over the chicken. Sprinkle with some more parsley.