lets.eat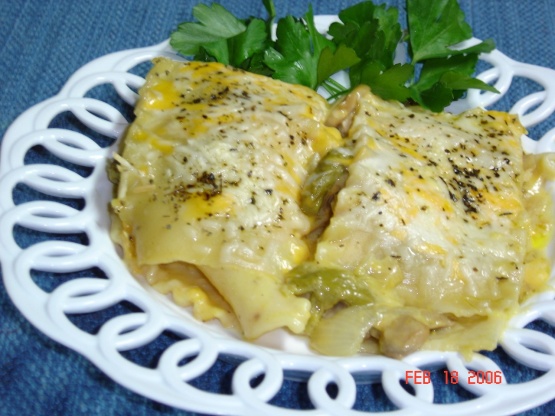 A very elegant dish to serve special guest.

Elegant and Soooo good. My family could not stop raving over this. Added extra cheddar along with the parmesan on the top layer and baked covered (since parmesan isn't the greatest in melting) for 30 minutes and than uncovered for the remaining time. This is a runny type of lasagna, so make sure the asparagus is thoroughly drained. Thank You Parkers Mom-
Make the Hollandaise sauce mix.
Coat a large skillet with cooking spray.
Stir onions & mushrooms over medium high heat until onions are translucent. Set aside.
Preheat oven to 350 degrees.
Coat a 13 X 9 in baking pan with cooking sprat.
Spread 1/2 cup of sauce in pan.
Layer 4 lasagna noodles, chicken, salt, pepper, muchrooms, and onions, remaining sauce, asparagus, 2 cups cheese and remaining noodles.
Top with remaining cheese, basil, and oregano.
Bake uncovered 35-40 minutes.