2Bleu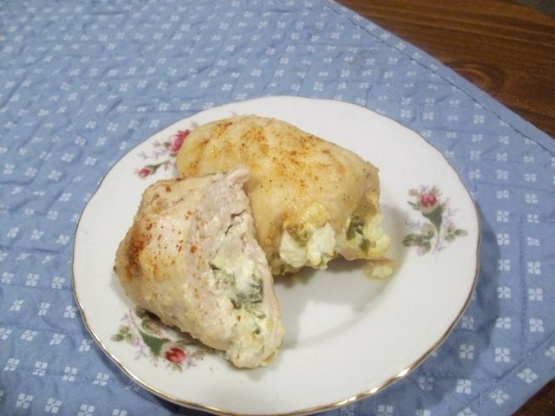 This version of a stuffed chicken is filled with cream cheese and chiles, from The Hatch Chile Cookbook, .

This is such a quick and easy dinner to put together. I didn't have whole chiles so I used chopped green chilis which made them pretty tough to roll up and then dredge in the flour. The flavor was out of this world though so I will be making these again using the whole chilis as stated in the recipe. This recipe is also really easy to reduce or multiply for a crowd!
On the top of each flat chicken breast spread 1 tbsp of cream cheese. Pace the whole green chile over the cheese on each breast, making sure to spread to cover the entire chicken breast.
Roll the breast up, tucking in the ends. Secure the roll with a toothpick and set aside.
On a dinner plate, mix the flour, red chile powder and garlic.
Dredge each breast in the flour mixture.
Spray a cookie sheet with non'sticking cooking spray and place the breasts on the sheet.
Bake for 40 minutes at 350 degrees.