teresas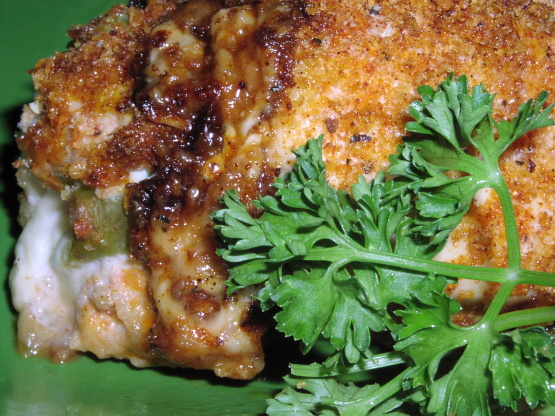 Delicious Mexican twist on chicken kiev! Found in Southern Living but added my changes with or. Goes really well with Cheesy Salsa Rice.

This recipe is very good and relatively easy. The recipe didn't say what kind of green chilies to use and I think mine overpowered the cheese and the breading because it was a bit too hot, so I think something like jalapenos would have been better. I think next time I would use more mild chilies. I served it with a Spanish rice.
Put chicken in ziploc bag and flatten with meat mallet or rolling pin. Place chilies and cheese in middle of breast and roll up from short end; secure with toothpicks.
Combine breadcrumbs, parmesan/romano, chili powder, cumin, salt, and pepper. Dip chicken rolls in melted butter then dredge in breadcrumbs. Place in greased 9x9 baking dish. Cover and chill for 8 hours to combine flavors.
Bake at 400 for 30-45 minutes or until chicken is done; discard toothpicks. Serve with salsa.