DuChick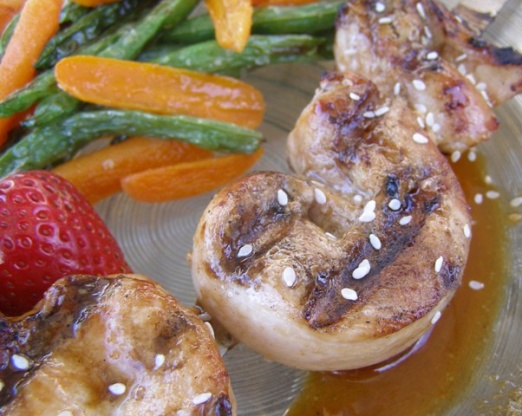 These are so good on the grill or broiled in the oven. I got this recipe from the Quick Fix Meals with Robin Miller show. I hope you enjoy them as much as I did.
Delicious and full of flavor!! I made this using 3 boneless, skinless chicken breasts, but left them whole. I pierced the meat and added them, along with sliced scallions to the marinade and let it marinade for two hours. We grill them, brushing on the marinade. Served with some rice and corn on the cob for a wonderful dinner. Thanks for sharing the recipe. Made for 123 Tag Game.
.Coat an outdoor grill or stove-top grill pan with cooking spray and preheat to medium- high.
Lay out 3 chicken strips, about 1/2-inch apart. Place a scallion crosswise over the center of the chicken pieces. Then wrap chicken over scallion 1 by 1, securing with a toothpick. Repeat process until you have used 1 pound of chicken.
Season and grill the remaining 1 pound chicken breasts for another meal later in the week.
In a small bowl, whisk together soy sauce, honey, sesame oil, ginger, and garlic powder. Reserve half a cup of the marinade to use as a dipping sauce. Brush the remaining marinade all over the chicken-scallion skewers.
Grill kebabs 5 to 7 minutes turning occasionally until the chicken is cooked through.
Garnish the reserved dipping sauce with sesame seeds and serve alongside skewers.