gailanng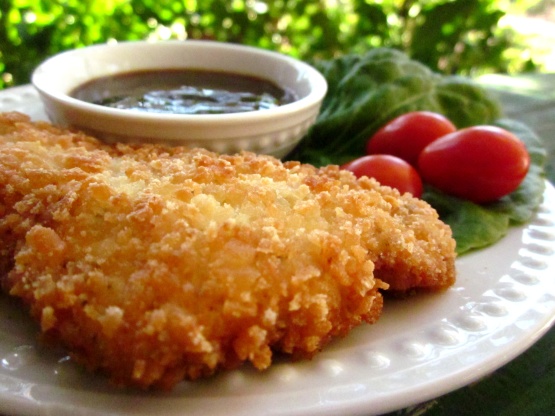 Katsu are boneless strips of chicken,or pork that are breaded; fried and served with a dipping sauce. A staple at Hawaii restaurants, it has its roots in Japanese cuisine
This makes the best Chicken Katsu. I lived in Hawaii for almost 12 years when I was in the Navy, and I miss the food so much. I especially miss L&L drive-in, and this recipe reminds me of their plate lunch. Thanks so much for posting this recipe.
BTW, the sauce is perfect also.
To make katsu sauce, combine catsup, soy sauce, sugar, Worcestershire sauce and red pepper in a small bowl and set aside.
Flatten chicken pieces into 1/4 inch thick pieces.
Season chicken generously with garlic salt, ( season to taste) and let stand 15 to 30 minutes.
Set up three dredging pans. Place flour in the first, beaten eggs in the second and panko flakes in the third.
Heat about 2 inches of oil in a skillet to 350 degrees.
Dredge chicken in flour, dip in eggs and coat with panko in that order.
Fry chicken in batches until golden brown on both sides; drain on paper towels. Cut into one inch slices and serve hot with katsu sauce.
Pork can be substituted for chicken (tonkatsu).