Chicken Karaage (Japanese Chicken Nuggets)
Pneuma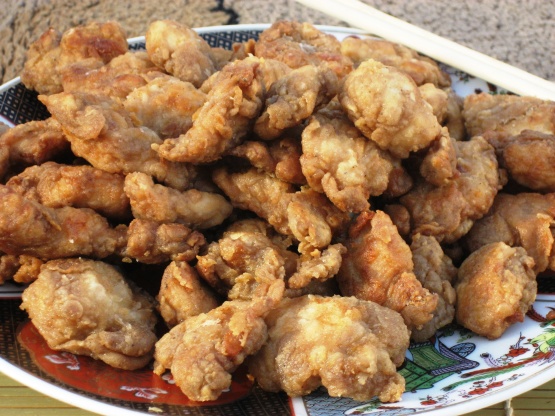 Chicken karaage is quite common in Japan and easy enough to buy at any convenience store or grocery store. I liked it quite a lot, and when I came home, I scoured the internet for recipes and found one that turned out pretty good. Once I knew the ingredients, I stopped using the recipe altogether, so all my measurements are approximate (since it's simply marinade, they don't exactly matter so much anyway!) Generally in Japan, karaage is made using dark meat. I prefer using white meat, so that is what is included in this recipe. You can use whichever you prefer. Also, you do not need a deep fryer. I have included directions for fryer and skillet.

Top Review by Pneuma
I just love it! So tasty! Could taste the ginger in it. The combination of ingredients makes a wonderful flavor. Squeezed a bit of the optional lemon on the flour/chicken mixture before frying in the wok. Thanks for sharing, Bobbles. Made for PF's March Cooking With an Asian Accent.
Cut the chicken into large, bite-sized pieces. Place into a large zip-top bag or bowl.
Measure the 1/2 cup of soy sauce and add the grated ginger, garlic, salt and pepper. Pour over the chicken. Mix together well by stirring (bowl) or kneading with your hands (bag) so that everything is coated well. Cover the bowl/zip the bag and put it in the refrigerator for about 1 hour to marinate.
In a medium bowl mix 1 part corn flour and 1 part white flour. There is no way to know exactly how much you will need, so keep the bags and a measuring spoon at the ready in case you run out.
After 1 hour, remove the chicken from the refrigerator. Remove the chicken from your bowl or bag and coat in the flour mixture. Set aside. (Remember that there may be bits of ginger or garlic stuck to your chicken, so if you want to remove it, do so either before or during flouring.) I recommend dipping the chicken in flour a second time before frying.
FOR DEEP FRYER. --Set your fryer to 350 degrees F and deep fry in vegetable oil until the nuggets are golden brown, about 5 minutes.
FOR SKILLET. --Fill a deep skillet with about 1 inch of vegetable oil and set to high heat. (The temperature is good when a drop of water sends you running to duck and cover. That or you can use a thermometer.) Add as many nuggets as can comfortably fit in the pan at one time. They probably will not be completely covered in oil.
After about 2 minutes (or when the part submerged in oil looks a tasty brown color), use a pair of tongs to turn each nugget over. You will have to keep a close eye on the nuggets, especially the small ones that will cook faster. When they look done, remove them to a plate prepared with paper towels to sop up excess oil. Repeat until all nuggets are fried.
Serve with the side of your choice and a slice of lemon (optional).