Chicken Kabuli (Murgh Kabuli)
French Tart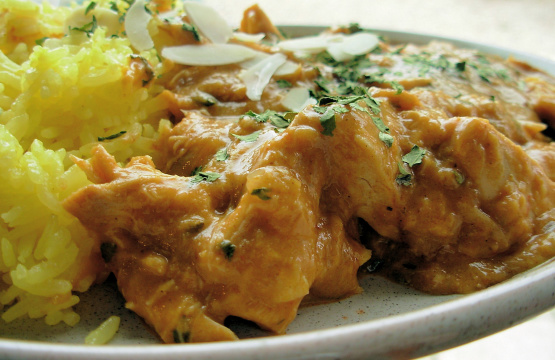 This mild and flavourful dish comes from Julie Sahni's 1980 book, Classic Indian Cookery. She adapted it from a dish served at the Akbar India Restaurant in New York City (which I think is now closed). I am posting this for some former exchange students who are going through severe Kabuli withdrawal. I often make this a day in advance. A few comments. I think Julie Sahni writes some of the clearest recipes on the planet -- and she does so without being patronising. Check out her books (and note that I have abbreviated some instructions slightly). Also, I wonder if Kabuli means the recipe is influenced by dishes from Kabul, Afghanistan. Finally, I have never timed this accurately, so the prep time is a bit of a guess.

This has to be one of the most delicious curries I have made and eaten for a long, long time! And, I KNOW my curries! Well written and easy to follow, and well worth the effort of making up all your own spice mix and paste for this recipe. A VERY authentic curry flavour - which probably does originate from Afghanistan, as they use a lot of yoghurt, cardamom and coriander in their cooking. I cut this in half and made enough for four people - we had friends over for a curry lunch! As Malcolm does not like chicken breasts, I made this up with a mixture of boned legs, and thighs, as well as breasts. I used LOTS of coriander and also garnished the curry with flaked almonds, and yet MORE chopped coriander leaves! I served this with my own Recipe #208297. I am adding this to my All Time Favourites Cookbook......just divine Oh Leggy One!!! Made for PAC Autumn 2007 - and my last recipe for this little bird, who is ready to fly the nest - thanks for providing me with such wonderful and innovative recipes to make Leggy - BRILLIANT! FT:-)
4

large garlic cloves, peeled

3

tablespoons fresh ginger, chopped

3

medium tomatoes, quartered (about 375 grams/12 ounces)

250

g plain yogurt (8 ounces)

180

ml vegetable oil (6 ounces)
1 1⁄2 kg chicken breasts, boned, skinned and cubed (3 pounds)
1⁄2 teaspoon mace

1

teaspoon nutmeg

2

tablespoons blanched almonds, ground

1

teaspoon cardamom, ground

1

teaspoon cumin, ground

1

teaspoon coriander, ground
1⁄2 teaspoon fennel, ground

1

tablespoon salt

125

ml double cream (4 ounces)

2 -3

teaspoons black peppercorns, coarsely ground

4 -5

tablespoons cilantro, finely chopped (coriander)
Buzz the garlic, ginger, tomatoes and yogurt in a food processor until they are a fine purée.
Combine the oil and the puréed mixture in a large heavy-bottomed pan, preferably one with a non-stick surface. Place the pan over medium-high heat, and cook -- stirring constantly to prevent sticking and burning -- until the mixture reduces to a thick sauce and the fat begins to separate (about 15 minutes). It splatters some toward the end, so stay alert.
Add the chicken pieces and cook, stirring rapidly, until they lose their pink colour and begin to sear slightly (about 5 minutes), but do not let them brown.
Add the mace, nutmeg, almonds, cardamon, cumin, coriander, fennel and salt, and mix well.
Reduce heat, cover the pan and let the chicken cook in its own juices for 15 minutes.
Uncover and continue cooking for another 15 minutes (or until the chicken is fork tender).
Stir in the cream, black pepper and cilantro/coriander leaves, and turn off heat.
Let the dish rest, covered, for at least 1 hour. When ready to serve, reheat thoroughly, check for salt and serve.