Chicken Kabouli (Interior Style)
KateL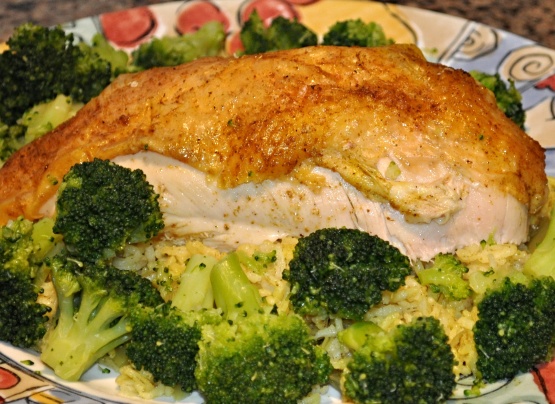 This is an Omani recipe for a chicken and rice dish. It comes from Nestle. For the Omani spices you can use Omani Spice Mix.

Top Review by KateL
Very mild and pleasant, will use more Recipe #492862 next time. My NA*ME neighbor said that Recipe #492975 would be more typically Omani, but she took home a large container of rice and chicken for her dinner tomorrow night. I bought the smallest chicken I could find, but the roaster took 1 1/2 hours; I think it would have been tastier had I used my Showtime rotisserie to baste the chicken as it cooked. Made for Please Review My Recipe.
Preheat oven to 400 degrees F.
Season chicken with the salt and 1 tablespoon of the Omani spice mix.
Roast chicken on a rack or in a baking dish for 45 minutes until it is cooked through and the skin has browned; remove from oven and set aside.
In a large saucepan, heat the ghee, then add the onions and cook until golden, about 5 or 6 minutes.
Add remaining 2 tablespoons of spice mix and garlic; add the bouillon and water.
Once the mixture boils, stir in the rice; cover, reduce heat and cook on low for about 25 minutes until rice is tender.
Serve rice with chicken on top.
Garnish with toasted almonds.