PaulaG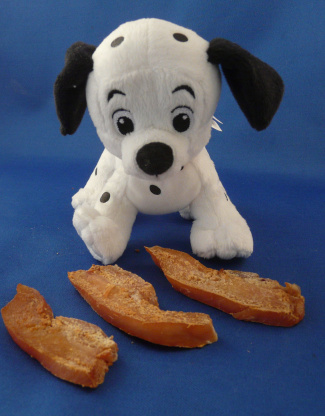 You can dehydrate your own chicken for you dogs at a fraction of the cost of commercial chicken jerky. I found the method on expertvillage.com. Edited to add: Well, here's a great example why you shouldn't make a recipe public until after you've tried it. I've now made the recipe (after it was reviewed and found to be in need of a much longer cooking time) and the instructions have now been corrected. Note: Regarding garlic and dogs: Many dogs enjoy the taste of garlic and it's a natural flea repellent. A small bit of cooked garlic should not be toxic. However, according to the American Animal Hospital Association, raw and spoiled garlic is toxic and potentially fatal to dogs. Consult with your veterinarian before using and use in small quantities.
Preheat oven to 200°F.
Slice the chicken into thin strips. You should end up with about 7 or 8 slices.
Place chicken slices on a baking sheet and bake for 2 to 2 1/2 hours to remove moisture (cooking time will depend on thickness of chicken and whether chicken is refrigerated or warm from oven. I baked raw chicken until no longer pink then allowed it to cool enough to be handled before slicing into strips).
Allow to cool.