Stacky5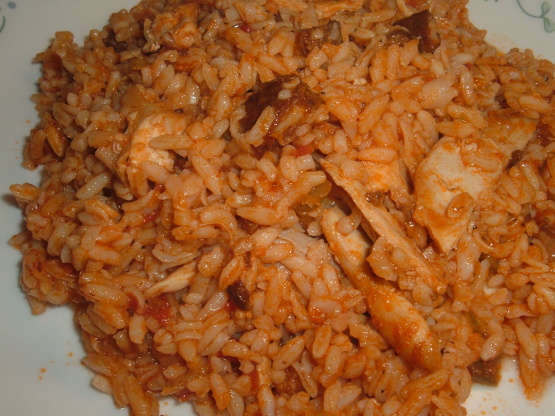 An easy version of popular Cajun dish that can be prepared in one pot. From US Rice Council.

Cut this in half for the two of us and still had enough for lunch the next day. It was quite good, very tastey, but a little loose. The rice was cooked just fine, I guess there was just a little to much liquid. Luckly enough we had some wonderful cajun bread to sop up the juice. I don't think the taste was effected at all, it was good. Thanks for posting.
Season chicken with salt and pepper and brown in hot oil in large saucepan.
Add sausage and cook an another 2 to 3 minutes.
Remove meats from pan; set aside.
Cook onions, green pepper, celery and garlic in same saucepan over medium-high heat until slightly softened.
Stir in rice, cayenne pepper, broth, tomatoes, chicken and sausage; bring to a boil.
Simmer, covered, for 30 minutes.