rpgaymer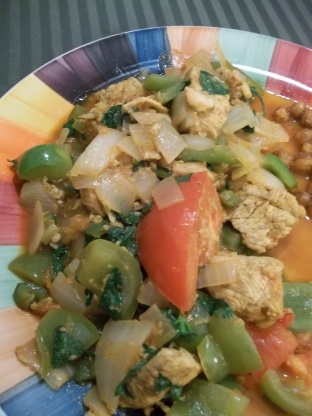 I love a good curry. It might be a Vindaloo, Rogan Josh, Madras or a mild Korma. This recipe comes from good old blighty and really packs a punch.
I've never had Chicken Jalfrezi before, but seeing as it's the most popular Indian curry in the UK I had to try it. It was really good and filled with flavor. There was a bit too much onion and bell pepper in there for us, but that's ok as this recipe was stretched out to four servings.
Mix ginger, garlic, turmeric, garam masala and salt together. Coat chicken with this mix and allow to marinate for 3-4 hours.
Heat oil or ghee in a wok or skillet. Add sliced onions, green chillies and green peppers and fry for a couple of minutes.
Add tomato wedges, stir fry for 2-3 minutes. Lift out with a slotted spoon and keep aside.
Heat 2 tbs oil or ghee in a clean skillet or wok, add marinated chicken and stir-fry for 5 minutes.
Add chili powder, tomato puree, water and cook on low heat until chicken is cooked through and tender. Add fried vegetables, prepared earlier, and stir.
Turn heat off. Add the cilantro. Give it a quick stir and serve hot with basmati rice.