Pikake21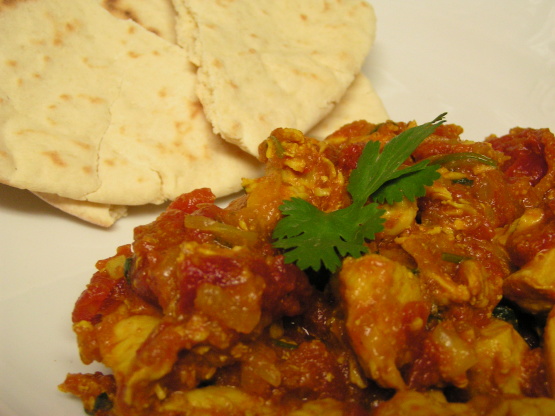 a Chicken curry from Pakistan

Growing up with an Indian family, I always appreciate a good curry, and this is one of the best chicken jalfrezis I've ever tasted! It's definitely the best chicken jalfrezi I've ever made myself, and so, so easy to make from scratch.
heat 2 tbsp oil in a medium pot and fry onion and garlic for a few minutes on high heat (be careful not to burn onion).
add the chicken, turmeric, chili powder and salt.
fry over medium low heat for 5-10 minutes, or until golden brown, scraping the base of the pan frequently and turning the chicken.
add tomatos, cover and cook over medium heat for 20 minutes.
uncover and simmer for 10 minutes so that excess liquid evaporates and the sauce thickens.
add cumin, ground coriander, ginger and fresh coriander and simmer for 5-7 minutes.
serve hot with plain rice, pitas or naan bread.