Chicken in Tomato Artichoke Sauce
awalde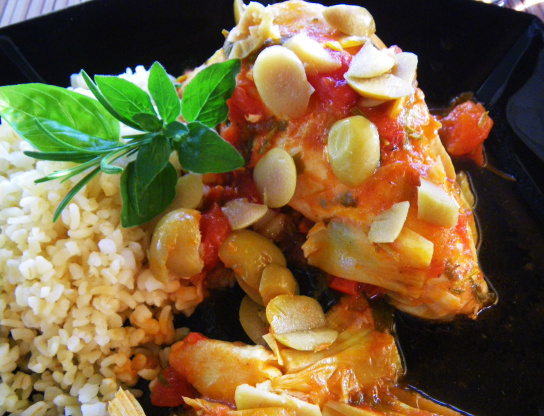 This one comes from a tomato sauce label, but I forget which brand it was.

Top Review by Ceezie
This was inspiration for dinner tonight. I had homemade Italian tomato sauce and precooked chicken. I added both to a pan and the artichokes. I cooked till the chicken was heated and served over egg noodles. I think next time I will have it over rice or another noodle and topped with Parmesan cheese. Thanks for a quick dinner and a great idea.
In a large skillet, brown chicken breasts in olive oil over medium heat; about 2 minutes per side.
Add tomato sauce, artichokes, rosemary and basil. Bring to a boil.
Reduce heat and simmer, covered, 10-12 minutes or until chicken is done.
Remove chicken with a slotted spoon and place on a serving platter.
Return sauce in skillet to a boil; reduce heat and simmer, uncovered until desired consistancy. Spoon over chicken and sprinkle with olives.
Serve.