IngridH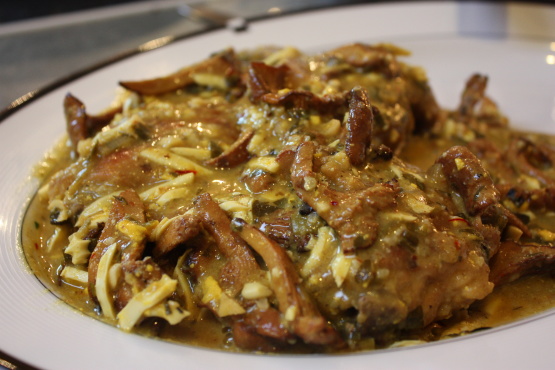 The saffron, chicken, and rice flavor of Chicken in Pepitoria is reminiscent of the famous Spanish paella. In paella, however, rice cooks together with all the meats and vegetables in a special shallow round paella pan. From Classical International Recipes. Posted for ZWT!

This was wonderful! The sauce was rich, thick, and very flavorful- I loved seeing the flecks of egg and the occasional thread of saffron among the mushrooms. I was going to halve the recipe, but ended up making the whole amount of sauce, so I would have plenty to serve with rice and some leftover for later. I had some chanterelle mushrooms on hand, so I used those instead of plain button mushrooms. Otherwise, I made as written, and the dish was enjoyed by everyone at the table. It was very easy to put together, and I don't think it took as long to cook as the recipe specified. This was easy enough for a weeknight, but elegant enough to serve to company. Thanks for a great dinner that will definitely be made again!
Rinse chicken pieces; pat dry.
In a paper or plastic bag, combine flour, 1 tsp salt, and 1/4 tsp pepper. Add chicken a few pices at a time; shake to coat. In a skillet brown chicken on all sides in hot oil about 15 minutes. Remove and set aside; reserve oil.
Cook garlic, onion, and mushrooms in reserved hot oil till onion is tender. Drain off fat. Stir chicken broth, wine, parsley, and bay leaf into onion mixture.
Return the chicken to the skillet. Bring to a boil; reduce heat. Cover and simmer 45 minutes or until chicken is tender. Transfer chicken to a platter. Remove bay leaf and skim the fat.
For sauce, combine the eggs, almonds, bread crumbs and saffron; stir into the skillet. Cook and stir till it is thickened and bubbly. Pour sauce over chicken.
Serve with hot cooked rice.