2Bleu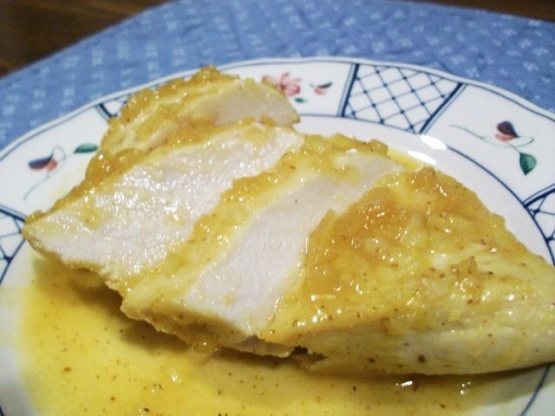 This recipe originates from Israel. The times shown does not list 1 hour marinating time.

Very moist and juicy! Not what I'm used to for orange chicken (the type from the chinese take out) but so much better! Also much healthier. I love that this wasn't breaded and then coated with a thick sauce. Thanks so much for sharing your delicious recipe.
Mix the together the first 6 ingredients then smear all over the chicken pieces. Marinate for 1 hour in the refrigerator.
Preheat the oven to 400 degrees.
Place the chicken with marinade in one layer on a baking pan. Pour another 3/4 cup of orange juice over the chicken. Roast in the oven for 15 minutes, basting occasionally with the juice.
Stir the brown sugar in the juice mixture. Turn the chicken over & continue to roasting & basting until the chicken is tender. (around 15 minutes).
Place the chicken into a shallow serving bowl & cover to keep warm.
Pour the pan juices into a saucepan. Bring to a gentle boil & let the juice reduce to a thick sauce, stirring occasionally.
Spoon part of the sauce over the chicken. Pour the rest into a sauceboat to be used at the table.