Chicken in Lettuce Leaves
Kim127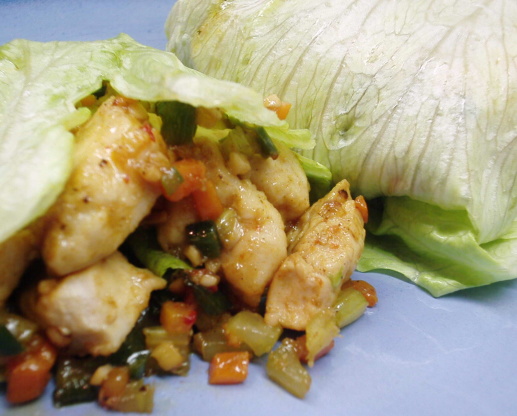 A few days ago there was a request of what to do with lots of lettuce, which can be frozen--while I am not sure if this can be frozen or not, it seems like a wonderful dish to use up lots of lettuce (and not make salad!). There is a lot of chopping/dicing in this recipe so by using a food processor prep time will be reduce substancially.Bon Appetit (June 1982)

Top Review by Kim127
Wow, what great flavor in this chicken wrap! I really enjoyed the flavor and they were easier to put together then it looks. I prepared all the veggies and sauce ahead of time and then just threw it together during the cooking. I did omit the water chestnuts because of personal preference and I blanked on what kind of pepper would be similar to a green chili. I ended up with a poblano and only used 1/4 cup. There was a mild 'heat' to the chicken and made a terrific supper. I used iceburg lettuce but would maybe suggest a less 'breakable' lettuce, like Boston Bibb. I kept ripping the lettuce leaves as I was wrapping them. I would make this again, thanks Ellie!
1

(1 lb) chicken breast, boned, sliced and cut into cubes (2 cups chicken cubes)

1

egg white

2

tablespoons cornstarch
1⁄2 teaspoon salt

2

green chilies, cored, seeded and cut into cubes (1/2 cup)

10 -12

water chestnuts, cut into small cubes (1/2 cup)
1⁄2 cup celery, diced

3

tablespoons carrots, diced

1

teaspoon ginger, chopped

3

tablespoons green onions, chopped

2

teaspoons garlic, chopped

2

tablespoons sherry wine
1 1⁄2 teaspoons soy sauce
1 1⁄2 teaspoons chili paste

1

teaspoon sugar

1

tablespoon water

2

cups peanut oil
1⁄2 teaspoon sesame oil

1

head lettuce, cored and leaves seperated
In a bowl combine chicken, egg white, 1 tablespoon cornstarch and salt together. Cover and refrigerate for 30 minutes.
In another bowl combine next 5 ingredients (chilies - ginger).
In a small bowl or cup combine green onions and garlic.
In a fourth bowl or cup combine sherry, soy sauce, chili paste and sugar.
Blend remaining cornstarch (1 tablespoon) and water in a small cup.
Over high heat, heat oil in a wok or large skillet. When oil starts to smoke add chicken in batches and cook, stirring for 1 1/2 - 3 minutes. Remove with a slotted spoon and drain on paper towels. Set aside.
Pour off all but 2 tablespoons of the oil and return wok to high heat. Add water chestnut mixture to wok and cook, stirring constantly for 30 seconds. Stir in green onion mixture and cook stirring for 10 seconds.
Return chicken to wok and cook stirring constantly 30 seconds.
Add sherry mixture and sesame oil.
Restir dissolved cornstarch before adding to wok. Cooking stirring constantly, 30 seconds.
Transfer mixture to a heated bowl.
Spoon mixture into lettuce leaves, and fold over to enclose mixture.
Serve hot.