Chicken in Honey-Lemon Sauce
kolibri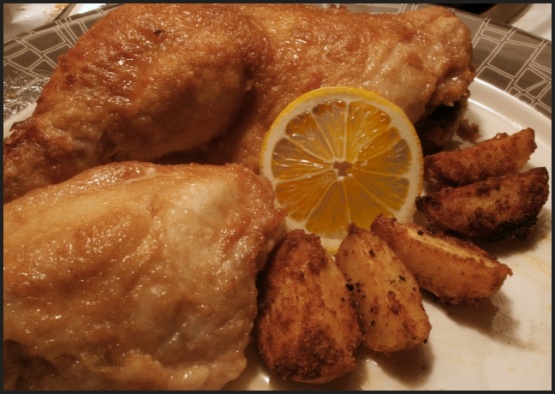 This is enough for 3-4 people, you can double this complete recipe, though you will have to bake it in a much larger baking dish. Serve this with cooked rice.

Top Review by LenLen
I really like this recipe. It kind of went wrong though, but it was still great. I live in Indonesia, and I had to translate the recipe for my helper to get the ingredients for me, so I said 5 chicken breasts for a single recipe, and I asked her to make a triple as we had a lot of friends coming over for dinner, but when the food came out of the kitchen, it was a rediculus amount of chicken, I was stunned... the next day I thought about it and realised that she probably thought I meant breast pairs, which she did... so we had 6 times the amount of chicken and 3 times the sauce :s It was really good, but the sauce had all been absorbed by the chicken. So we are going to try it again some time soon, correctly. But now we have so much chicken in our fridge I dont know how we are going to get through it all. P.S. Kittencal I love your pic and your name I have a cat named Cal (Calico) and she is so cute. and your pic is gorgeous, the orange is so bright!! Thanks for this great recipe!!
Set oven to 400 degrees.
Great a 13 x 9-inch baking pan.
In a large heavy plastic bag combine the flour, salt, paprika, garlic powder and pepper.
Place one or two pieces of chicken in the bag and toss to coat the chicken.
Then dip the floured chicken in the 1/2-cup melted butter.
Place in the baking dish skin side up.
Repeat with the remaining chicken pieces.
Bake uncovered for 30 minutes.
Remove from oven and drain off any fat or pan drippings, then turn the chicken over.
In a small bowl combine the honey, lemon juice and 1/4 cup melted butter, then pour over the chicken in the baking dish.
Cover with foil and return to oven for another 25-30 minutes, or until the chicken is done, basting occasionally with the pan juices.
Delicious!