Chicken in Cream Sauce (Volaille a La Crème)
Annacia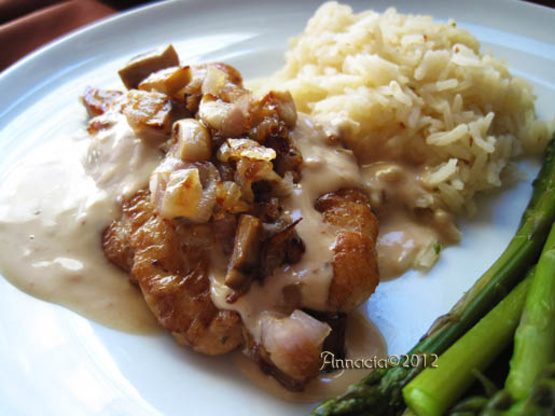 This chicken in cream sauce recipe, famously known as volaille a la crème in the Bresse region, is delicious in its simplicity. Brown high-quality chicken in butter and then simmer it in a cream sauce. That's all there is to it! Another recipe found on about.com for ZWT, French region.

Wow, decadent!!!! Enjoyed this very much, a fabulous meal for not too much effort. I did use boneless chicken fillets which I chopped up, preferring it that way. I sliced most of the mushrooms and left just a few whole, served those to my husband, since I'm not a great mushroom lover. I had Creme Fraiche, but I did use dried thyme. All in all, fabulous! Definitely a keeper. Made for ZWT 8, thank you, diner!
Season the chicken with the salt and pepper. In a large Dutch oven over high heat, sauté the chicken in the butter, turning once, until it is brown. The process will take about 3-4 minutes for each side. Transfer the chicken to a plate and cover with foil to keep warm.
Turn the heat to medium and sauté the onions for 5 minutes. Add the mushrooms, shallots, and sugar to the pan. Sauté the mixture for 6-8 minutes, until the shallots turn soft and the mixture is caramelized. Transfer the vegetables to a plate and cover with foil to keep warm.
Turn the heat to high, and deglaze the Dutch oven by bring the white wine to a simmer, scraping the browned bits from the bottom of the pan. Add the chicken stock, browned chicken, and thyme to the wine, cover, and lower the heat to low-medium. Braise the chicken for 10 minutes.
Turn the heat to medium high, add the crème fraiche to the Dutch oven, and simmer, uncovered, for an additional 10 minutes. The dish is ready when the sauce has reduced and thickened and the chicken is cooked through. Serve it hot with the caramelized vegetable garnish.