Chicken in Coconut Milk (Martinique, Caribbean)
Sageca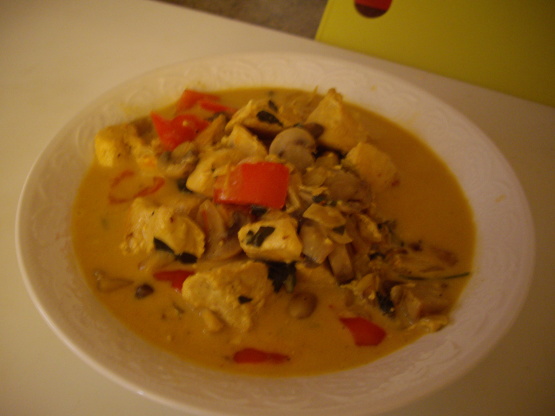 This is my final recipe to enter from *The Essential Caribbean Cookbook* edited by Heather Thomas & I feel like I'm ending a cruise thru the islands of the Caribbean. Ck out the 2 desserts I entered from this cookbook as either would be great as the finale of this meal. *Enjoy* !

Great and easy way to do chicken. I had 3 huge boneless chicken breasts that I cut each in half. Didn't have a red chili pepper so I used a jalapeno. Didn't have the saffron either but it was delicious just the same. Wife says we have to have this again.....so we will. Made for Football Pool 2012.
Heat peanut oil in a lrg deep skillet & add chicken quarters (or breasts). Fry gently over moderate heat till all chicken surfaces are golden brown, turning occ in the oil. Remove chicken & set aside.
Add onions, garlic & chile to the skillet & fry gently till soft (about 5 minutes). Do not allow onion to brown ~ it should be only lightly colored.
Return chicken to the skillet & pour in the coconut milk. Sprinkle w/saffron & season w/salt & pepper. Stir well & simmer gently for 30-40 min till the chicken is cooked + tender & the sauce has thickened & somewhat reduced. Serve immediately w/boiled rice, a ladle of sauce over the chicken & rice & sprinkled w/fresh parsley.