Chicken in Coconut Milk from Madagascar
Peter J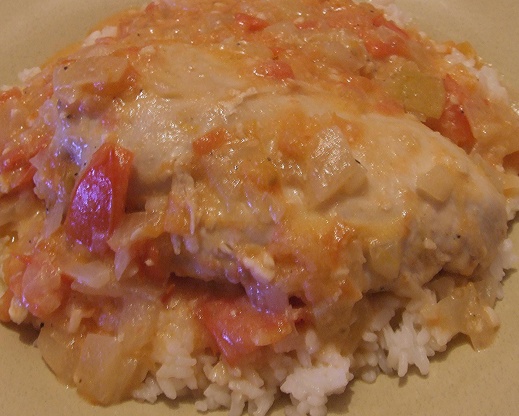 Posted for ZWT, looks delicious but I haven't tried it yet. I guessed as to the servings and time.

My boys love the flavor but are convinced they don't like onion and tomato. I finely chop the tomatoes and use onion powder with great success while "on vacation." The boys pick a "vacation" spot, and we study the place, its people, traditions, art, food, economy, etc. This was an easy-to-prepare and authentic part of our "trip."
Marinate the chicken in the lemon juice, lemon rind, salt and pepper for about an hour.
Heat oil in dutch oven or large covered pot. Saute the onion and garlic for a few minutes.
Add the chicken and continue to cook and stir until the chicken is nearly done.
Reduce heat, add tomatoes and ginger and stir for a few minutes.
Add coconut milk and simmer over low heat until chicken is fully cooked and sauce is thickened.
Serve over rice.