Chicken in Cardamom-Yogurt Sauce
JustJanS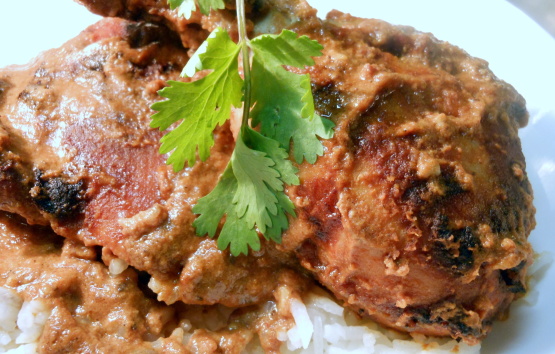 From Bon Appétit Magazine, January 2009

This is so super speedy to put together I can't believe the first reviewer and I were making the same recipe. I will make this again, but I'll fry off the onion, garlic and spices in the oil before adding that spice paste into the yoghurt/tomato mix (made as written, it had a bit of a raw spice taste).I didn't know what temp to cook this at, or to cover, or not cover, so went with 170c and uncovered-I liked the well-browned finish of my dish. I used bone in legs and thighs.
Preheat oven to 350°F
Whisk first 13 ingredients in a 2-quart baking dish. Add chicken; stir to coat.
Bake until chicken is cooked through, about 40 minutes.
Divide rice among bowls. Top with chicken and sauce.