Chicken in Balsamic, Orange & Rosemary Sauce
momaphet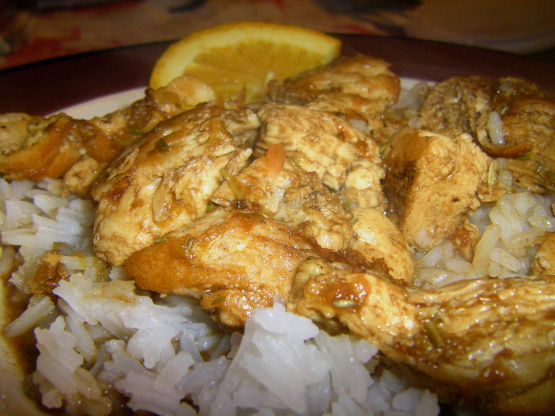 Low-fat tender chicken in a rich gravy with rosemary and balsamic vinegar.

I loved the combination of flavors in this dish. Next time, I would probably quick fry the chicken and remove it, then make the sauce and put the chicken back in the end. I would also reduce the oj to 1/2 c and broth to 1/3 cup. I would have liked to see the sauce reduce to more of a syrupy consistency. We really enjoyed this though!
Put the chicken between pieces of plastic wrap and flatten slightly by bashing with a pan.
Unwrap and sprinkle on both sides with pepper. Heat the oil in a pan over a medium heat, then fry the chicken for 5 minutes, turning halfway through.
Pour 2 tbsp vinegar over the chicken, add the orange juice and stock and sprinkle with the rosemary and salt.
Bring to the boil, lower the heat and bubble gently for 15 minutes until tender, spooning with the sauce frequently and turning chicken halfway through.
Stir in the sugar, butter and rest of the vinegar, then sizzle for a few minutes until reduced and glossy.
Put the chicken in a serving dish, spoon the sauce over and garnish with orange segments and rosemary sprigs if you wish.
Serve with rice and a crisp green salad.