Chicken in a Riesling Sauce
JustJanS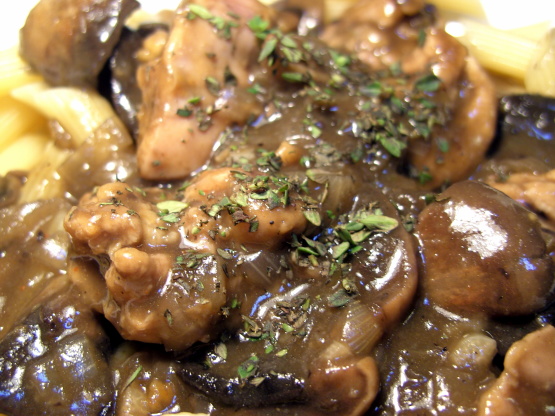 This is a recipe from the local/state daily paper The West Australian and by one of my favourite contributors Margaret Johnson. Times are estimated.

This was good and easy to make, but Russ and I both agreed it missed the mark with us. He ,called it "boring", and I agreed adding that the wine was quite a raw flavour in there with not enough cooking time to soften it into the sauce. I would eat this if someone cooked it for me, but personally I wouldn't make it again. I used quite mature mushrooms, so got plenty of colour in my sauce (quite different to the other reviewer and her photo). I think I could have rescued the sauce by adding tomato paste in step 4 and finishing it off with some sour cream, but then it wouldn't be the same dish. Sorry Pat but not for us.
Heat butter and olive oil in a wide based pot or saute pan and add the onion and cook over a moderate heat until it is a pale golden brown and then add the garlic and the mushrooms.
Cook for another few minutes and season well with the salt and pepper.
Place the flour in a plastic bag and season with salt and pepper and then add the chicken pieces and toss the chicken around to coat well and then add the whole lot to the pan.
Cook for a few minutes and add the wine and the herbs and bring to the boil and simmer gently for 10 minutes.
Allow to sit for 5 minutes and serve - over noodles or pasta was suggested.