Chicken in a Light Cream Sauce
Annacia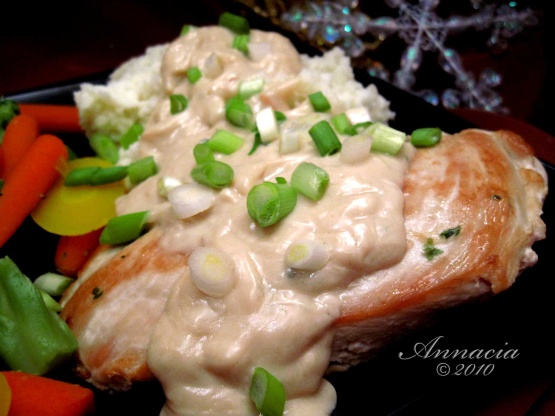 A great Sandi Richards recipe, with some minor changes. If you're counting WW points, this one is 8. Enjoy!

Fantastic recipe!! I can't believe how simple this was to prepare and the taste was over the top delicious. My son finished his first serving and was into his 2nd before I was halfway finished (he is 15 though!!). The whole family loved this recipe. I think next time I'll brown the chicken a bit more in the pan before adding the broth but love that the chicks cook by poaching than doing it completely as pan fried. I too skipped on the sugar - just don't see the need. Have I told you how much we loved it yet? 10*** definitely! Thanks Nif - made for Went to the Market Tag and now going into my much loved recipes cookbook.
Heat oil in a large non stick fry pan over medium heat.
Place chicken and garlic in the pan. Add only 2 cups of chicken stock. Keep simmering and turning chicken until broth has almost completely evaporated, about 15 minutes.
Once sauce has almost completely evaporated, remove chicken and set aside on a plate.
Pour 1/4 cup broth to the pan and stir to deglaze. Slowly whisk in cream and sugar.
Return chicken to pan and heat gently in the sauce, for 10 minutes.
Serve over rice or pasta and sprinkle with green onion.