BecR2400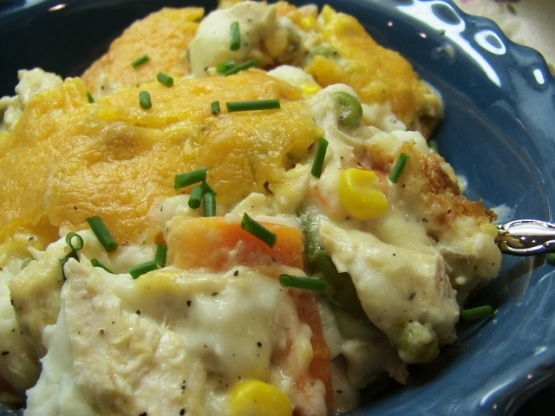 Creamy chicken and veggies nestled in a fluffy cloud of mashed potatoes, topped with melted cheese, true comfort food at it's finest! A simple and easy recipe, this casserole can be assembled in advance and popped into the oven an hour before serving. Serve with warm buttered biscuits. Enjoy! Tip: The hot mashed potatoes are especially tasty prepared with chicken broth in place of water, and cream cheese in place of the usual milk & butter.

This recipe is the best I've found on this site so far! Every time I make it, my family devours it - no matter how much I make! Even my usually fussy daughter (3) loves it. It also freezes well, so it's a good recipe to make multiple batches of at a time.
Preheat oven to 350 degrees F.
Butter a 13 by 9 inch shallow baking dish.
Spread hot mashed potatoes evenly across the bottom of the baking dish, coming up the sides somewhat to create a shell.
In a large bowl, stir together the chicken, vegetables, soup, sour cream, onion or chives, mustard, garlic, and pepper.
Spread the chicken mixture on top of the mashed potatoes, and sprinkle evenly with the shredded cheese.
Bake uncovered for 45 minutes (or bake for about 1 hour if made ahead and refrigerated), until cheese is melted and casserole is hot and bubbly.
Remove casserole from the oven, let stand for 10 minutes before serving.
Good served with warm buttered biscuits.
Note: This casserole is even more over-the-top awesome made with a breadcrumb or stuffing topping. Assemble the casserole as directed, reserving the grated cheese. During the last 30 minutes of baking, top casserole with 1-2 cups freshly torn soft breadcrumbs (or stuffing mix), seasoned with a pinch of poultry seasoning and a few dashes of celery seeds. Drizzle with 2-3 tablespoons of melted butter, and then top with the grated cheese. Bake until topping is lightly browned and casserole is hot and bubbling. Extra yummy!