Brenda.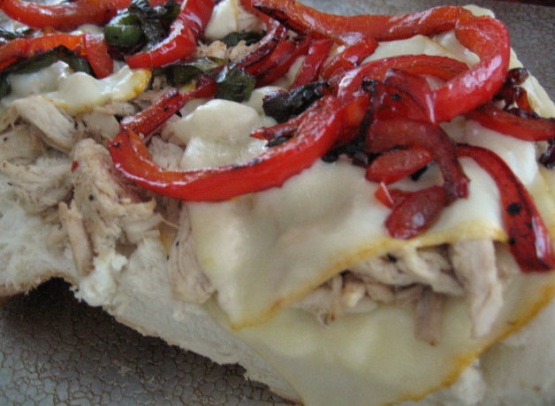 This is similar to a Cheese Steak, but chicken instead. A great quick dinner.

This was very good! I would definitely make it again. The only thing I might change would be to cook the chicken, then drain off the juices, then add the Italian dressing and toss the chicken in it. Seems that the dressing flavor kind of gets diluted when the chicken is cooking. Otherwise, definitely a keeper recipe!
Heat oil in skillet, add onions, peppers & mushrooms. Continue to stir occasionally. Until they are browned and onions start to carmelize.
While they are cooking, place chicken in a nonstick skillet and stir in italian dressing, cook on medium/high heat. Continue to stir as needed, until chicken is cooked throughly.
Pre-heat oven to 400°F.
Place hoagie buns open on a cookie sheet. Top each bun with 1/4 of chicken and 2oz of provolone.
Bake in oven for about 5 minutes, just until cheese is melted.
Top each with pepper mixture, lettuce, tomato and mayo if desired.