Chicken, Ham and Leek Pie
KateL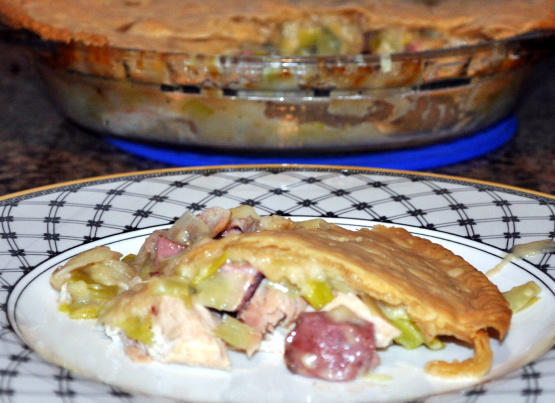 This is adapted from a recipe I found on a website called Irish Abroad. Posted for ZWT 8 Great Britain/Ireland

Top Review by KateL
This was simply excellent, and sold me on making pot pies, as long as I use this sauce (only 3 Tbsp. butter). I used moist, tasty chicken and stock from Recipe#369106, and ham left over from Recipe #470718. The finely minced onion made up the bulk of the sauce (I used the medium shredder on my Verona Assistent food processor) to great success. The leeks were the perfect counterpoint to the chicken and ham. DH and I are agreed that we would like to have this again and again. Thank you for sharing. Made for The Wild Bunch of ZWT8 for its trip to Britain.
1. Take the chicken off the bone in large pieces. In a deep dish pie plate,
make alternate layers of chicken, ham and leeks.
2. In a saucepan over medium heat melt the butter and add the onions. Saute
until the onions are soft. Stir in the flour and mustard and cook for a few
minutes. Slowy add the chicken broth and cream, stirring until it is thickened.
Pour the sauce over the chicken, ham and leeks in the pie pan.
3. Roll out the pie crust until it is slightly larger than the pie plate.
Dampen the edges of the pie plate and cover with the pie crust. Crimp the edges
and cut holes for steam.
4. Bake in a preheated 350 F oven until the crust is lighty browned, about 25 to
30 minutes.